Conference & Event Management
We can design and organize any event from A to Z. Our service embraces the whole process from idea formulation to its implementation.
Expertise of our employees enables them to promptly plan extraordinary creative events and formulate an offer ideally matching the needs of each and every Client. We offer exclusive, far above standard solutions like staging events on yachts, in theatres, museums, ancient castles and mansions, on uninhabited islands and mountain peaks. We are skillful and take pride in that ability to create unexpected and memorable projects.
It is enough to request us and we take on all the efforts for you and create your corporate event.  We will find the venue, make an event script, think thoroughly in terms of logistics and F&B as well as submit an optimal option for the budget.
We assist to resolve organization issues related to your trips. Our Clients may always count on Happy Vacations in getting a visa, booking a flight, a hotel, transportation services and sightseeing.
Our motto is – to serve you in a way that you feel like recommending our service to your friends.
Incentive Travel
Themes for the incentive:
1. Extreme on Quadrocycles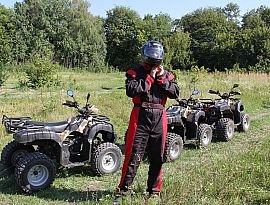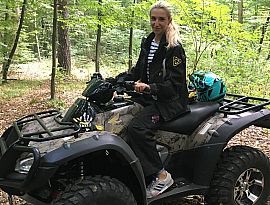 Adrenaline "roading" on powerful quadrocycles – hybrids of a motorcycle and the car. They are capable of speeding up to 100 km / h, and therefore a "clean" drive is guaranteed. Even more thrills will give the track with a lot of unevenness, unexpected obstacles and sharp turns. Everyone will be provided with a separate quadrocycles, so you can demonstrate who is here a real off-road.
Check-in will be a great way to spend a day out in the outdoors: in the forest more often or in the middle of a wide field. Quadrocycles are easy to operate, so even newcomers will be able to cope with them.
2. Paintball for the company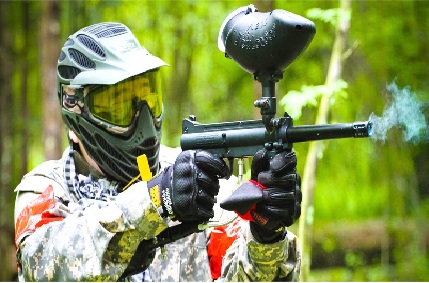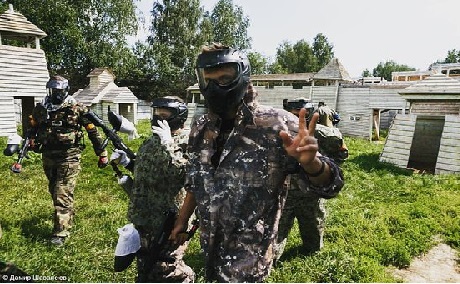 A dynamic game for the company. Players will be given a complete combat kit: a protective helmet, camouflage and paintball guns. The battle will take place in a specially equipped playing area with artificial shelters and barricades. The company will have 1200 cartridges with paint, which will last for several hours of uninterrupted combat.
Gambling in the paintball club. Teams have to attack, defend themselves, shoot guns-markers, hide from enemy fire behind barricades, attack the flank of the enemy and defend their own. The judge will be the instructor of the paintball club, who will supervise the process of playing on the field and make sure that the participants follow the rules.
3. Hot air balloon flight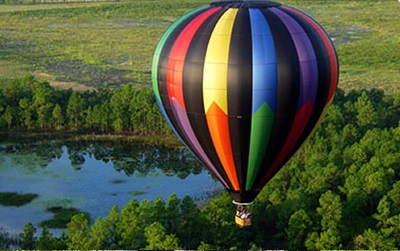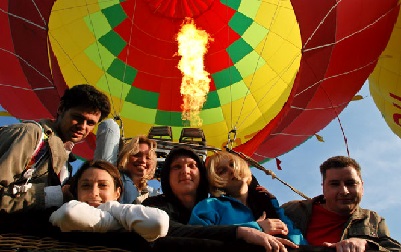 A great chance to fly over the relief vicinities of Kiev in a hot air balloon! Before the eyes, the earth will open in miniature from a height of 400-500 m. The flight will be carried out in a small group, up to 6 people, and the right to control the ball is assigned to a professional aeronaut. The guest will be provided with a transfer from the base to the take-off place and in the opposite direction. The best air route is offered. Below you will find picturesque landscapes, forest and blue lakes, luxurious country houses. After landing – a solemn dedication to aeronauts with champagne and an honorary diploma!
4. Horseback riding for the company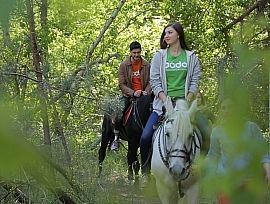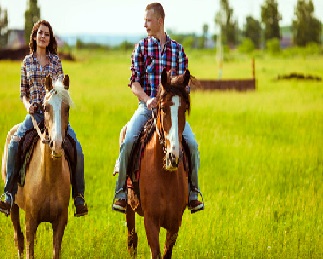 Exciting riding on noble horses outside the noisy city – in the vicinity of the equestrian club. The impression is calculated on 4 persons, it is accessible even to those who does not have experience of riding. The company will be accompanied during the walk. Beautiful and well-rounded horses move in steps, so that skating will take place at a calm pace.
Or a variant of the competition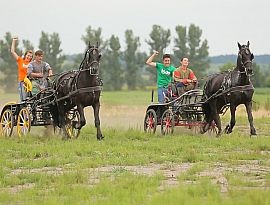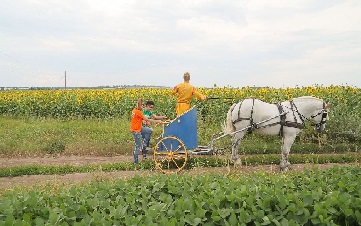 Driving race on 2 sports chariots of the ancient Roman type, drawn by horses of breed першерон. Horse carriages are an accurate reconstruction of transport, which traveled through the streets of ancient cities. The only difference is that sports models are modernized and designed for fast driving. Participants ride on separate chariots. Each occupies a place behind the instructor who manages the crew. Skating takes place not far from the theme park "Kievan Rus": you can not only admire the scenic landscapes, but also personally try their hand at driving the chariot
5. Master class  of archery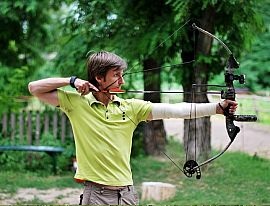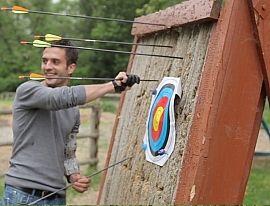 Possibility to practice shooting from a sports bow! Use a trained instructor to use weapons and accurately produce arrows. He will show the elements of the basic technique and tell you what position you need to take, how to pull the string and correctly aim. The beginner will have enough time to hit the targets, especially since the number of shots is not limited!
A chance to feel like Robin Hood's clever! This is an individual master class shooting from a sports bow, which is a wooden arch with a stretched string. An experienced instructor will quickly learn to accurately release arrows, because this kind of bow is ideal for beginners. Do not need to make any special effort or have athletic build – can shoot and men and women, and even children!
6. The quest for virtual reality
Plunge into the exciting world of virtual reality, wearing special glasses. A fantastic story unfolds before our eyes: flights, chases, shootings and interesting command missions. Quest is designed for a company of 4 people. Everyone will manage their own virtual double – avatar, and look at the world with his eyes. Imitation of reality – with the help of computer technology a virtual environment is created, where everyone can manage his double avatar. Having put on special glasses, it is necessary to plunge completely into the fantastic world. In it is possible that which is not available in ordinary life: to develop an ultra-speed, fly, fight in space battles. A virtual game for 4 people is built in the format of the quest – it is necessary to carry out individual missions and move forward.
Team game involves the joint passage of missions, the performance of various tasks and interaction at all stages of the virtual game. You need to complete the quest in 1 hour.
7. An evening with a rock band in the company of friends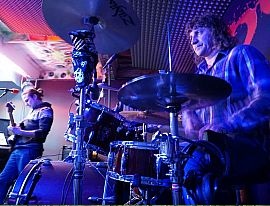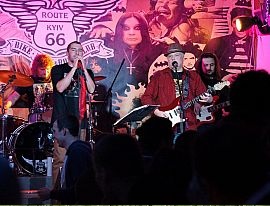 A great gift for all fans of music in the style of rock! The company of friends will visit the rehearsal base, where the Kiev rock group will arrange a mini-concert for the guests. The team will perform cover versions of famous world hits in original and author's arrangement. You can order food and drinks in the studio, because you have to rest in an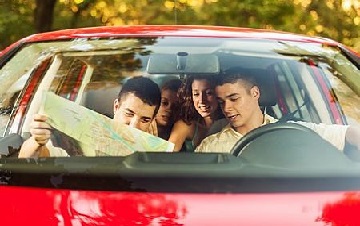 informal atmosphere. Guests will watch the performance of the group and talk with the members of the team. Together with the musicians, you can even try playing the guitar or drums.
8. Quests around the city
– Quest by car
Gambling detective game on the streets of your hometown, the essence of which is to stage-by-stage all the encrypted locations and go through a secret route on your private car. Creative organizers in advance will take care of the fascinating plan of "intellectual competition", and at the meeting place will give the first clue. The address of each next item can be hidden anywhere – in a trash can, under a bench, in a sandbox, etc. The best helpers in the "brainstorm" will be 3 loyal comrades, as well as any other devices: a flashlight, a card or gadgets with access to the Internet.
–Horror Quest for company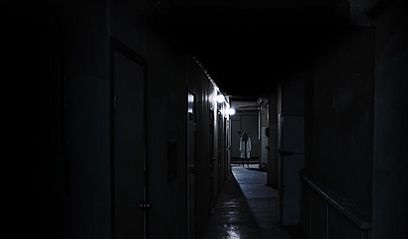 Outside the walls of the room are ambitions and skepticism – inside the labyrinth you can find out what real fear is. Friends will fall into another dimension, where in practice they will have to apply their knowledge of survival. The company has to go through all the tests and find a way out or stay forever. During the "walk" it is necessary to periodically check who holds the hand. An eerie adventure for the Lucky guys. In total darkness you can rely only on your own ingenuity, foreboding and friends. Flashlights do not shine more than 5 cm, so it's worth getting used to the dark. The roar of chainsaws, the screeching of metal rods, the dark silhouettes – with this the guys will collide in a hell room. Lucky people will have to choose – to split up and look for a way out individually, or try to get out together.
9. Master- classes
Master Class Climbing
Master class of pottery
Chocolate master-class
Caramel workshop
Workshop of Floristics
Master class of barista/ cocktails
Playing 5 musical instruments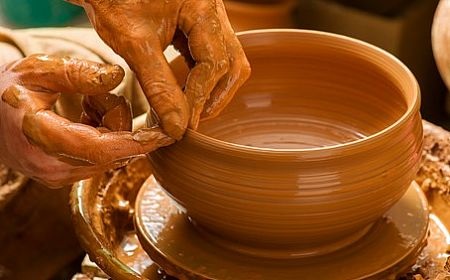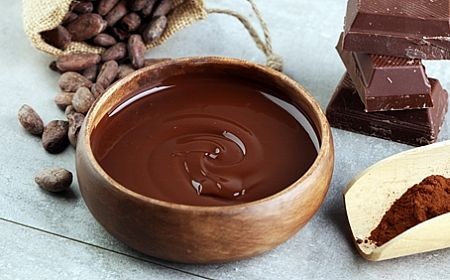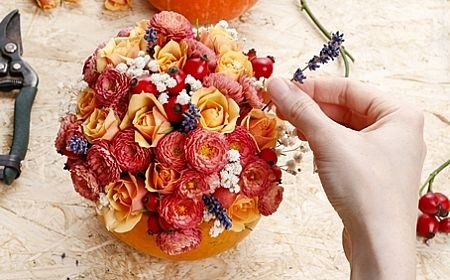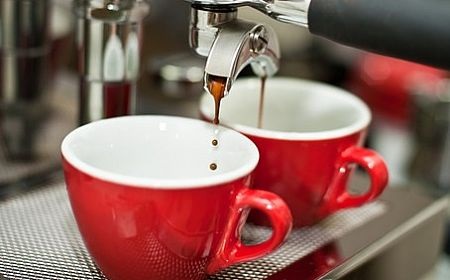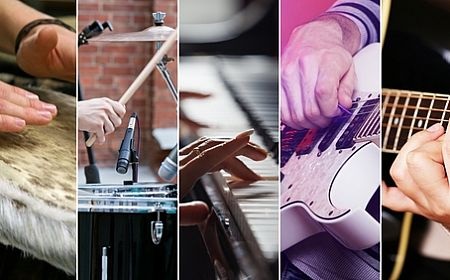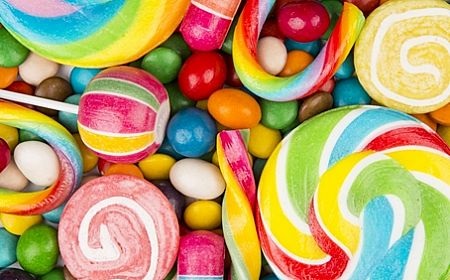 10. MILITARY ADVENTURES
– Master class on tanks
Infantry fighting vehicles, armored personnel carrier and BRDM. Shooting from an anti-tank gun and delicious soldier's kitchen.
-Tour to the military base
Riding on the legendary T64 tank, shooting with weapons and real army cuisine. For relax
with a good dose of adrenaline.